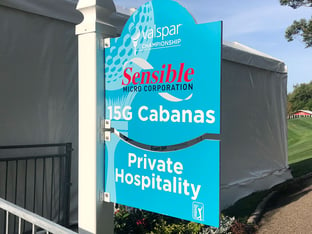 Sensible Micro is proud to announce its continued sponsorship at the 2020 Valspar Championship, an official PGA TOUR event. This year, Sensible Micro will sponsor the 2020 Birdies Challenge in addition to our third annual sponsorship of the championship and the 15th Green Cabana.
"We are very excited to be an official sponsor of the 2020 Valspar Championship and to take part in this year's Birdie Challenge. Being a part of this event has become a Sensible Micro tradition and we are happy to support our community and so many wonderful charities", says President and Co-Founder, Chris Torrioni.
About Valspar:
The Valspar Championship is operated by the non-profit organization, Copperhead Charities Inc. The organization is run by a volunteer board of community leaders in the Tampa Bay area and has operated for 40 years under various tournament names. Since 1977, the tournament has donated over $44 million, with the 2019 Valspar Championship generating over $2 million for charity.
Every March, more than 2,000 people volunteer their time and efforts during the tournament week along with other community-minded sponsors. With their support and the support of tens of thousands of golf fans, the Valspar tournament has raised substantial funds for organizations like, but not limited to:
About the Birdies Challenge:
Valspar and Pinch A Penny established the "Birdies Challenge" to honor our heroes. Birdies Challenge Sponsors donate $100.00 for every birdie made and the money raised goes to the Special Operations Warrior Foundation. This year, the foundations' goal is to provide a fully funded college education to children of fallen Special Operations service members.
The Valspar Championship Tournament kicks off Sunday, March 15th, with the Veterans Alternative Copperhead 5k Run/Walk, where fans can run or walk through the scenic Copperhead Course. Click here for a full list of events and here to purchase tickets!
Stay on top of the latest developments in the industry and in our community by subscribing to the Sensible Micro blog today.