Electrostatic discharge (ESD) is a quick electrical shock given off by a person or other 'charged' object. In the electronics industry, ESD can damage electronic components; it can even cause local burn out. Because of this, most components are treated as static sensitive devices and must be handled as such. By being ANSI/ESD S20.20 certified, electronic components and equipment can be protected from ESD damage.
Continue reading to learn more about the ANSI/ESD S20.20 certification and sourcing quality electronic components from certified distributors.


What is ESD S20.20?
ESD S20.20 is a multi-industry certification for the development of ESD control programs, specifically intended to avoid damage caused by electrostatic discharge. ESD control programs created using the standard's control methods and direction are designed to protect sensitive electronic devices down to 100v or less, reduce down-time, and avoid costs associated with ESD damage and component failures. This certification also helps with global outsourcing, managing evolving customer requirements, shorter delivery deadlines, and mitigation of integrity threats in the supply chain.
This certification is used by original component manufacturers (OEMs), electronic component distributors, and test labs across the globe, as it helps ensure part integrity and it serves as a replacement for the MIL-STD 1686 standard. This certification has become highly regarded across a wide variety of industries but especially in commercial electronic, medical, telecommunication, automotive, and aerospace.
Elements of Static Control & an Effective Control Program
As defined by the ESD Association, there are 6 basic principles for static control and 6 elements necessary for a successful ESD control program. Out of the 6 basic principles, the following 5 are most relevant to certified distributors at the facility level:
Define the level of control needed in a particular environment by identifying what is the most sensitive component you're working with and what the classification of withstand voltage is.
Identify and define where in your facility ESD sensitive items will be handled; This location is referred to as an Electrostatic Protected Area (EPA).
Reduce as many static charge generating processes or materials from an EPA as possible.
Since all electrostatic charges can't be eliminated in an EPA, it is very important to dissipate and neutralize the charges that do occur through proper grounding, ionization, and the use of conductive or dissipative materials.
Protect products by preventing discharges from reaching susceptible parts or assemblies.
ESD control plans vary from organization to organization, as they are tailor-made to fit a company's unique characteristics and needs. That being said, the ESD Association has defined 6 key elements for the development and implementation of an effective ESD control program:
Establish an ESD Coordinator and team(s)
Assess Your Organization, Facility, Processes and Losses
Establish & document your ESD control program plan
Build Justification to Get the Top Management Support
Develop & implement a training program
Develop & implement a compliance verification plan
Grounding & Handling Requirements
People can be one of the primary generators of static electricity. The ANSI/ESD S20.20 certification has specific requirements related to those handling the electronic components as well as the packaging and marking the products. Grounding is one of the most important requirements for any ESD control plan developed with this certification. When grounding, all electrically conductive and dissipative items, including personnel, in an EPA are attached to the ground. This allows for built-up electrostatic charges to equalize with ground potential.
The first means of grounding personnel is with wrist straps. Wrist straps come in two parts: a wearable wristband and a ground cord that connects the band to the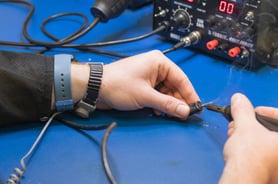 common point ground. When worn and connected to ground properly, wrist straps keep personnel near ground potential.
Another way of grounding people is with a flooring and footwear system. Using conductive or dissipative flooring along with ESD control footwear provides a safe ground path for the dissipation of electrostatic charge and reduces charge accumulation. Some floor materials and finishes can also reduce triboelectric charging. Static control shoes, casters, or foot grounders can provide the necessary electrical contact between the person and the floor.
Clothing can also be used to ground personnel, typically used in drier environments or cleanrooms. Certain fabrics and materials, especially synthetics, can generate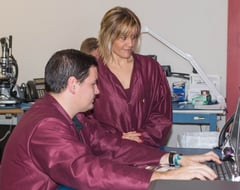 electrostatic charges. Static control garments are usually worn as outerwear and can help affect or suppress an electric field from clothing. As per this certification and the Garment standard ANSI/ESD STM2.1, there are three categories for static control garments: not grounded garments, grounded garments, and a groundable garment system that also bonds the skin of the person to an identified ground path.
When packaging and marking products, packaging materials provide direct protection from electrostatic discharge. Common packaging materials include shielding bags, rigid or semi-rigid plastic packages, and corrugated boxes. These packaging and materials handling products protect the static-sensitive items during shipping and limit the possible impact of ESD from direct discharge, triboelectric charge generation, and electrostatic fields.
Maintaining the Certification
As with most other quality certifications, ANSI/ESD S20.20 calls for compliance verification auditing and it's vital for successful management of an ESD control program. There are three types of ESD audits; quality process checking, program management audits, and ESD Control Program compliance verification audits.
Quality process checking tracks the regular effectiveness of an ESD control program. Procedures and materials are checked visually and electrically on a daily, weekly, or monthly basis. For example, wrist strap testing is part of this audit.
Program management audits measure how well the program is being managed and workplace compliance. It focuses on factors such as realistic program requirements and ESD training programs. This type of audit is typically conducted via a survey and can be done without actually having to visit the site.
ESD Control Program compliance verification audits are workplace audits. They verify that program procedures are being followed correctly and all ESD materials and equipment are both in working order and within the required limits. This type of audit is performed on a regular basis, usually monthly.
Basic auditing instrumentation or special test equipment is required for ESD compliance verification. The needed equipment is dependent on what is being measured and how sophisticated the ESD program is. As a minimum, according to the ESD Association, an electrostatic field meter, ground/AC outlet tester, and high rand resistance meter are necessary pieces of equipment to have for verification purposes. Additional test equipment can include footwear and wrist strap testers, charged plate monitor, discharge simulators, and ESD event detectors.
When it comes to maintaining this certification, compliance verification and personnel ESD control training are key. Auditing and continuous program maintenance help organizations gauge their program effectiveness, make continuous improvements, and ensure quality electronic components.
Sourcing Quality Electronic Components
Working with a certified distributor who has a vetted supply chain and inspection capabilities can help you secure quality electronic components. Sensible Micro is a hybrid distributor and is ANSI/ESD S20.20 certified. This certification shows our commitment to maintaining an electrostatic discharge control program as well as our greater dedication to quality.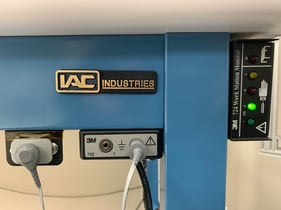 Having the ANSI/ESD S20.20 certification helps us protect electrical or electronic parts and equipment that are susceptible to ESD damage from discharges of 100 volts or more. Our on-site inspection lab is one of the most technically-advanced in the industry and includes all of the necessary ESD controls, such as proper static control accessories for personnel, grounded tables and signage. We have continued to maintain this certification and others.
Schedule a call with a Sensible Micro representative today to discuss your sourcing and testing needs.