Electrical testing can be used to identify suspect parts and aid in counterfeit mitigation. It can also be used to determine that parts moving through the supply chain have been handled or stored correctly. However, not all components need to be fully powered up to be examined. For these parts, low power methods are used. In this post, we cover key information about low power electrical testing, highlighting component applications and the different testing options.
Low Power Electrical Testing
In standard electrical testing, power is applied to an electronic component to test the viability of the electrical connections. Low power electrical testing is similar to standard electrical testing as it checks to make sure the component is giving the correct signature or measurement. However, it requires very little power to be added to an electronic component. In fact, a lot of low power electrical tests require no power at all. No power testing, commonly referred to as power-off testing, is performed if there is any concern over a part getting damaged by applied power. Power-off tests allow for components to be safely examined and are often used in troubleshooting.
Low power testing tricks the part into thinking it's being properly powered up in order to get the signature reading or other measurement. This is done by applying a current limited sine-wave voltage to an un-powered circuit or electronic component. These measurements are then compared to a standard, which can be found in the test equipment's manual for the component.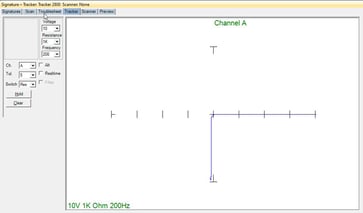 If the reading does not match the standard, it could indicate that there's a problem with the pins, electrical connection to the die, or that there is damage caused by electrostatic discharge (ESD). Low power and power-off tests, such as curve tracing and analog signature analysis, can also help identify suspect parts.
What Electronic Components can be Tested?
Low power electrical testing can be performed on a wide variety of electronic components including:
Batteries
Capacitors
Chokes
Crystals
Diodes

Fuses
Inductors
Op amps
Relays
Resistor

Switches
Thyristors
Transistors
Electronic Test Equipment
When performing low power electrical testing, different equipment is needed and used for different electronic components. Below is a list of some common electronic test equipment used for basic or low power electrical testing, what they do and examples of the components they are used on:
Electronic Test Equipment:

Function:

Component Application:

Example:

Analog Signature Analysis

Produces a unique V/I signature that can determine the condition of a wide variety of components.

Passive Components
Discrete Semiconductors
Integrated Circuits

Huntron Tracker 2800




LCR Meter

Measures the inductance (L), capacitance (C), and resistance (R) of an electronic component.

Sensors
Passive Components

BK Precision LCR




Frequency Counter




Measures the frequency of an input signal.

BK Precision Frequency Counter




Linear DC Power Supply




Provides a linear flow of electrons that can be regulated into the desired voltage level.

All Electronic Components

Mastech Triple Linear DC Power Supply




Waveform Generator




Produces an electrical signal in the form of a wave and is used as a stimulus for the electronic component being tested.




Oscillators
Logic Circuits

Atten DDS Function Waveform Generator




Multimeter




Takes measurements of electrical circuits and is used to test resistance and voltage.

Batteries
Switches
Passive Components
Discrete Semiconductor

BK Precision Count Multimeter




Oscilloscope

Graphs and reports on waveforms created by an electrical signal.

All Electronic Components

Owon Oscilloscope
Electrical Testing At Sensible Micro
As a certified distributor, Sensible Micro is able to provide electronic component testing and inspection services, including low power electrical testing. Our electrical testing capabilities revolve around low power electrical confirmations and are conducted in our on-site lab. We do basic electrical testing on all orders, when applicable, including those sourced factory-direct. We do these tests free of charge and they are included in our IDEA inspection reports.

We stock, source, and distribute electronic components and hardware to manufacturers of electronic products across a wide variety of industry segments. With our lab services, exceptional customer service, numerous authorized lines, and vetted network of global suppliers, Sensible Micro can add value to your supply chain. Schedule a call to discuss your testing and sourcing needs with a Sensible Micro representative today!