In the electronic components industry, solderability testing is performed to determine how well the leads on a component would be able to withstand future soldering, adhere properly to a carrier board or interconnecting substrate, and create a strong electrical bond. In this post, we cover the basis of solderability testing and why it's an important test to perform on older electronic components.


Solderability Testing
Solderability testing is a destructive test and a common flow-down requirement performed to ensure that the solder will stick to the leads properly in next level assembly. A proper solder connection indicates proof of wetting and is a reliable and quantitative way to measure solderability. Wetting balance evaluates the speed and adhesion strength between molten solder and the test surfaces. Wetting is influenced by the type of metal used or any contaminants on the surface. Wetting balance will differ for through-hole (TH) and surface-mount (SM) components but both are based on the same physical principals.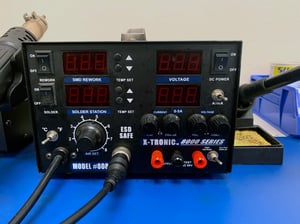 This test is usually done in a solder pot or with a soldering iron. When using a solder pot, a bar of solder is placed in the ceramic container and heated into a liquid so the parts can be dipped into the solder.
This method is used for higher volumes when a lot of parts need to be tested and is sometimes referred to as 'dip and look'. In contrast, a soldering iron is used for smaller sample sizes. Using a soldering iron means each piece must be soldered by hand.


Testing Older Components
Most electronic components have a significantly shorter life cycle than the end products they're used in and go obsolete within three years of being introduced to the market. Confirming that an older component has been preserved, stored and handled correctly requires highly-advanced inspection equipment and analysis. Age and environmental exposure can damage or deteriorate the leads, resulting in poor lead integrity. It can also cause future problems.
For example, oxidation of component leads can affect solder wetting later on. When parts have a date code that is 2 or more years old, they are more likely to show signs of degradation, such as oxidation caused by being in long-term storage.


Oxidation on Component Leads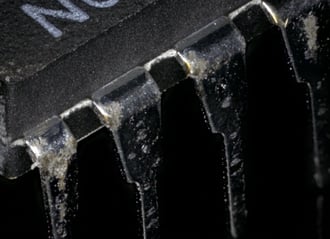 Also, this test can help identify counterfeit electronic components because resurfaced leads react differently than new parts in terms of soldering and wetting. Since the risk of sourcing counterfeits goes up when looking for older or obsolete components, this test could help identify suspect parts.
Testing is usually done based on a company's specific flow-down requirements. It may also be performed at the lab's discretion to spot-check if the leads or terminations look damaged or potentially problematic.


Sensible Solderability Testing
As a certified distributor with in-house lab capabilities, Sensible Micro is able to provide electronic component testing and inspection services, including solderability testing. This test is included as part of our General Counterfeit Avoidance Test (GCAT) or is available upon request individually. We are able to confirm lead integrity of older components using our X-Tronic soldering station or temperature-regulated soldering pot. These options verify the solderability of components by applying leaded or lead-free solder to make sure IPC wetting solderability standards for leaded and RoHS components is achieved.


GCAT Solderability Sample Report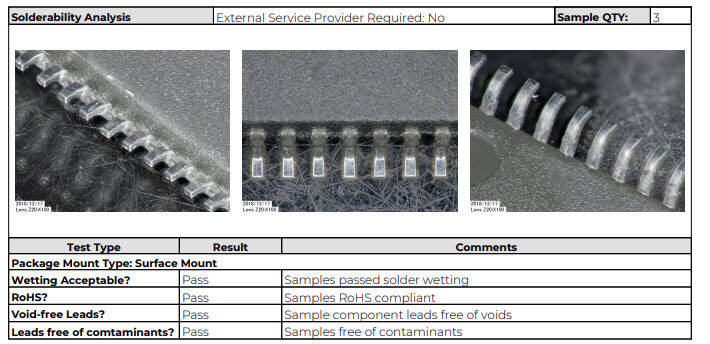 Additionally, we are able to source older, hard-to-find and obsolete parts and confirm that an older component has been stored and handled correctly. Schedule a call to discuss your testing and sourcing needs with a Sensible Micro representative today!
Stay on top of the latest developments in the industry by subscribing to the Sensible Micro blog today.